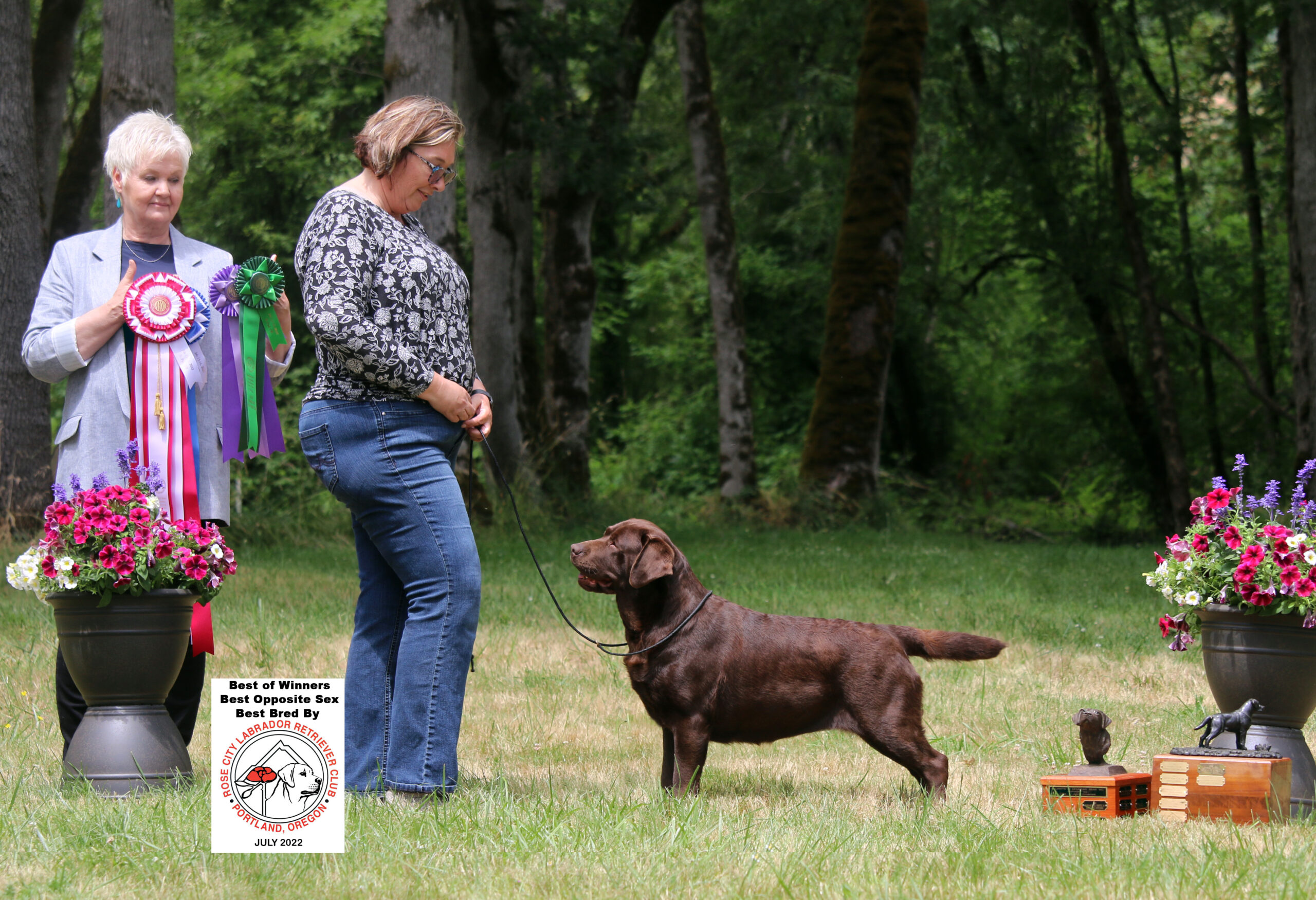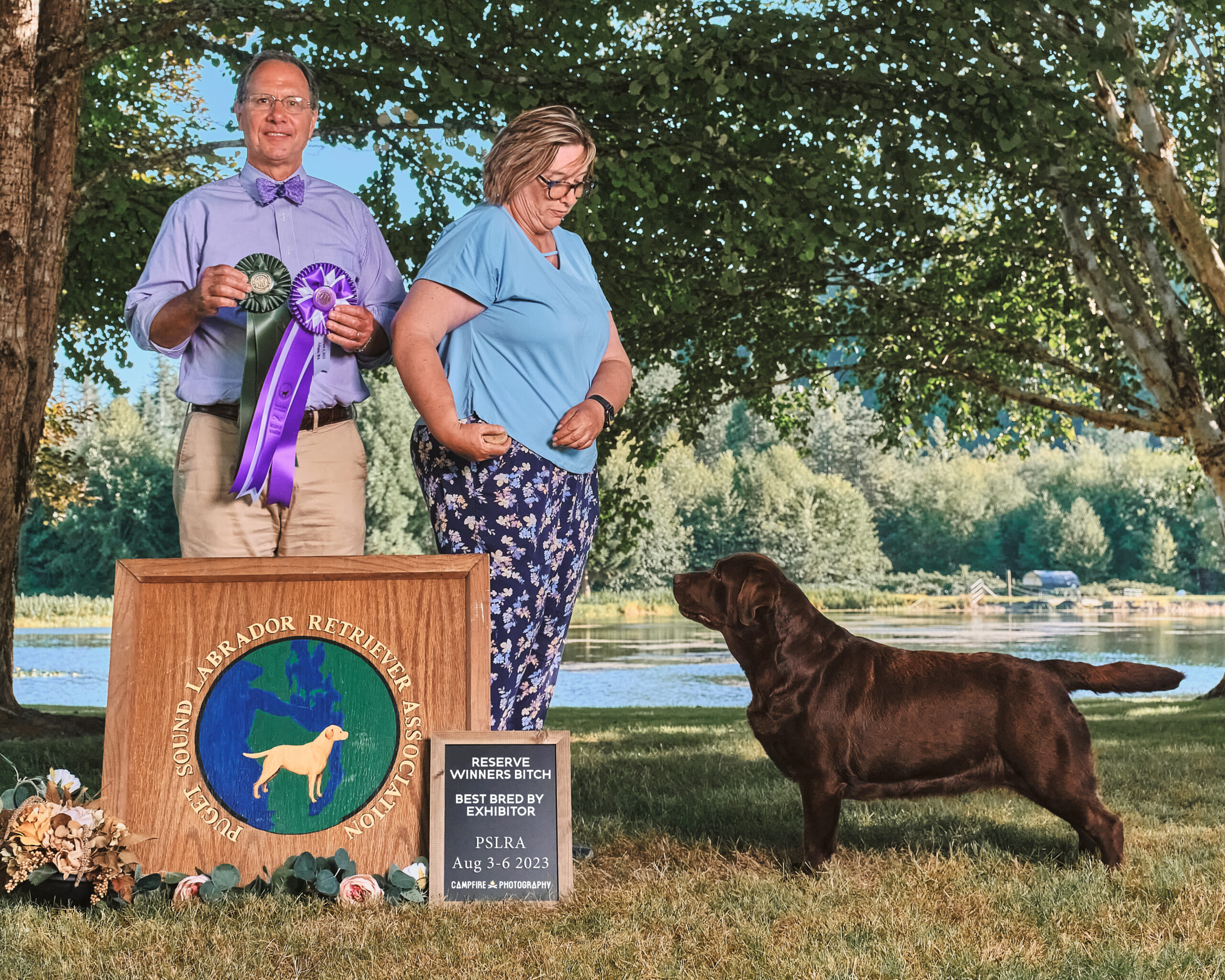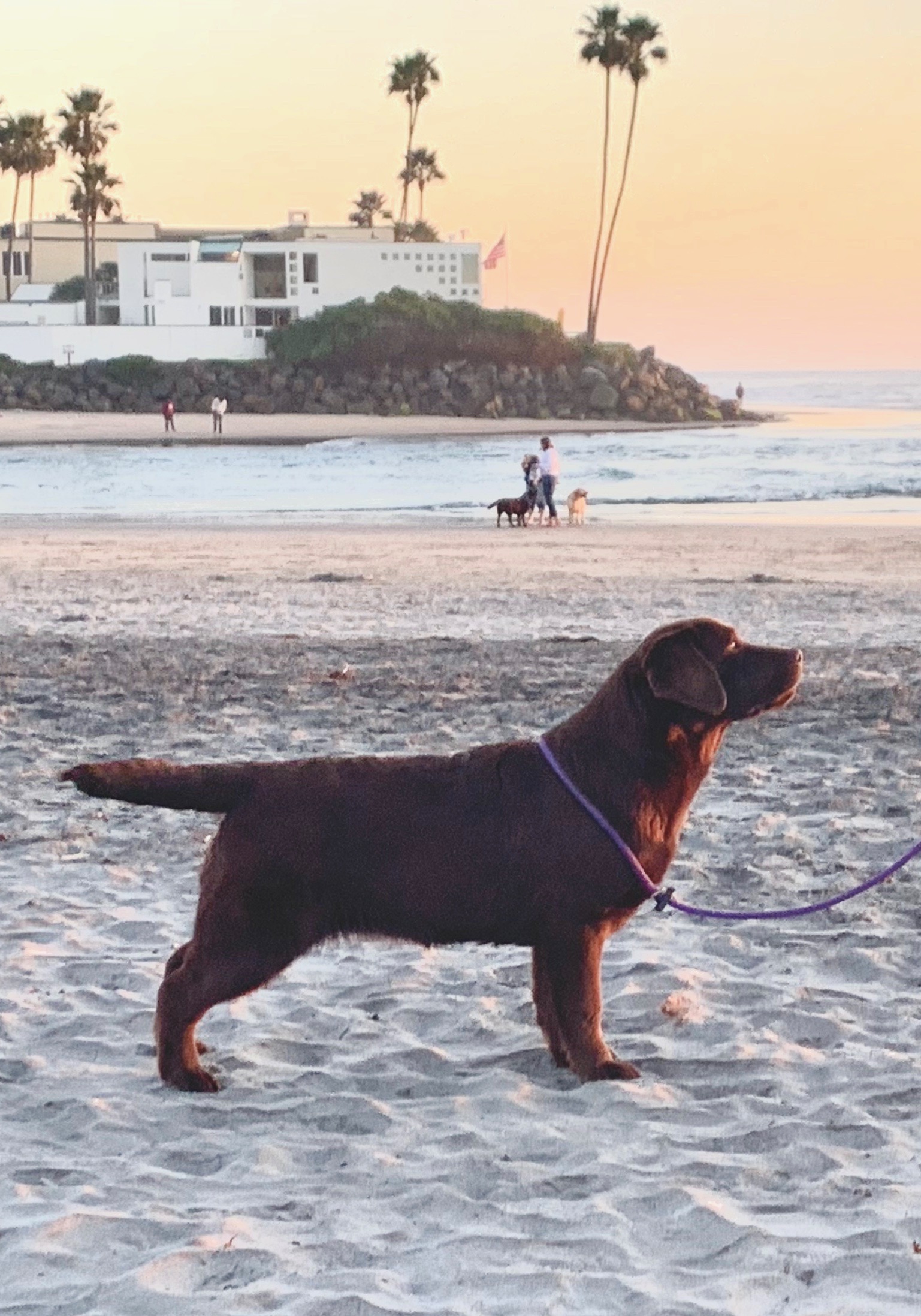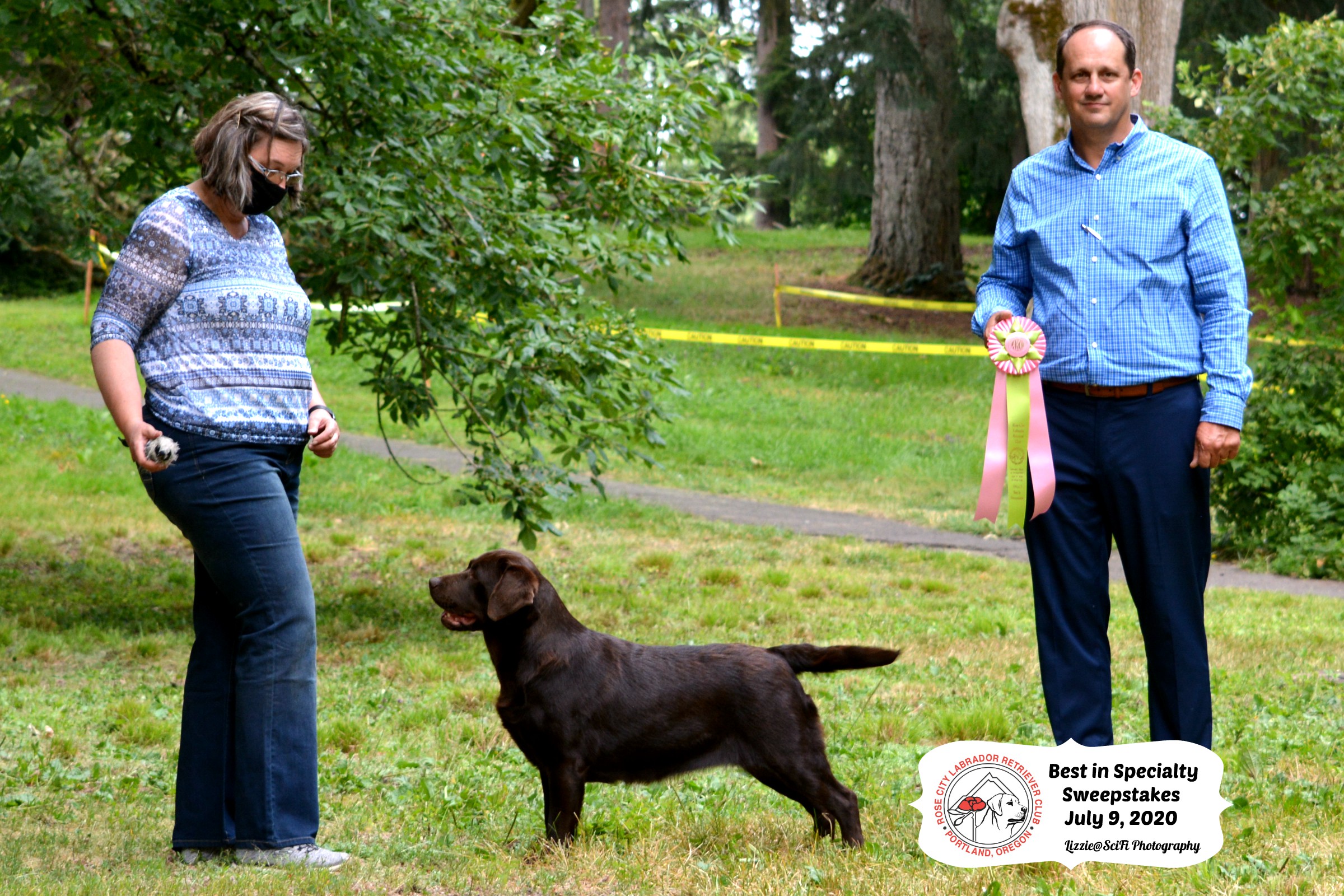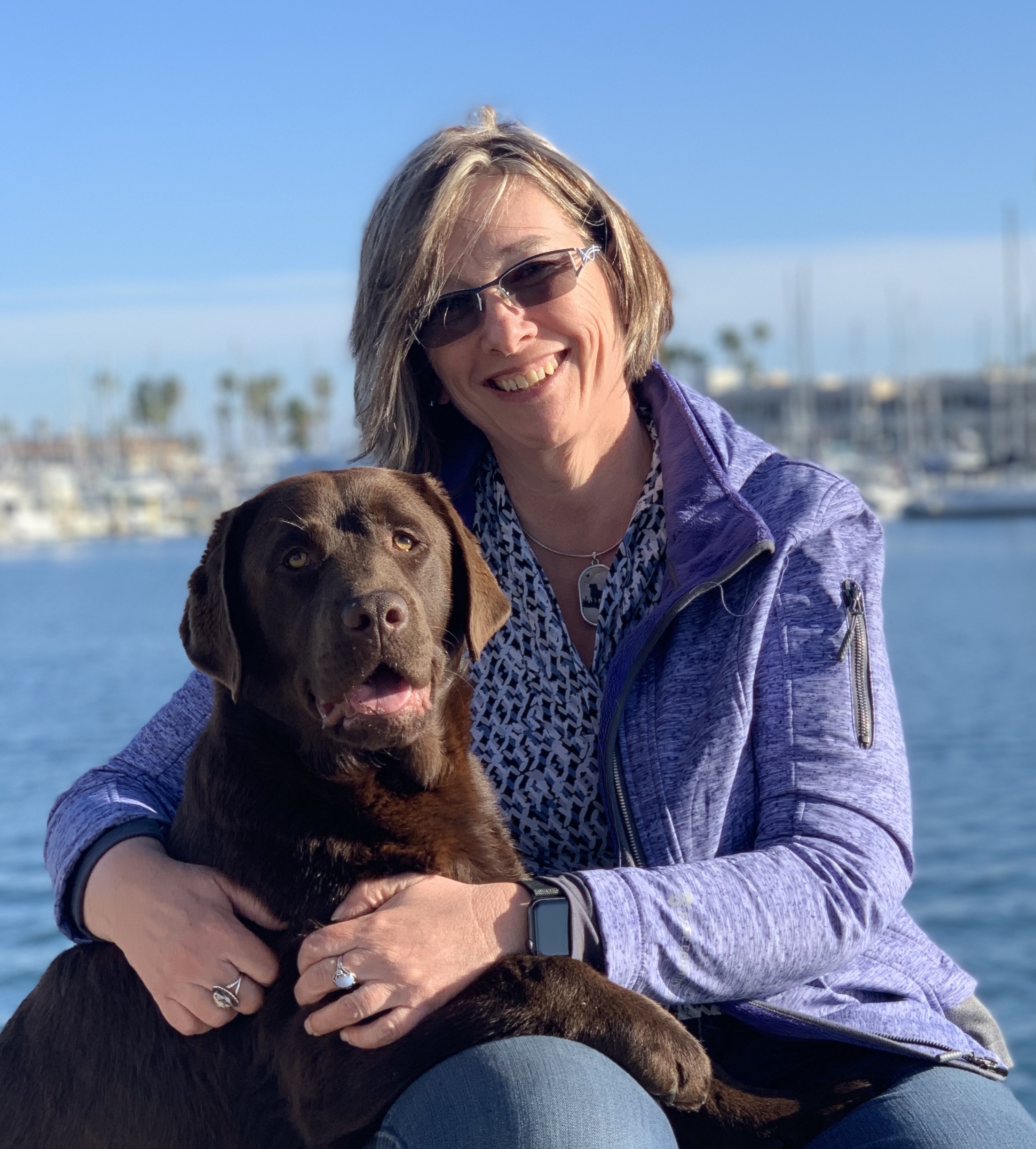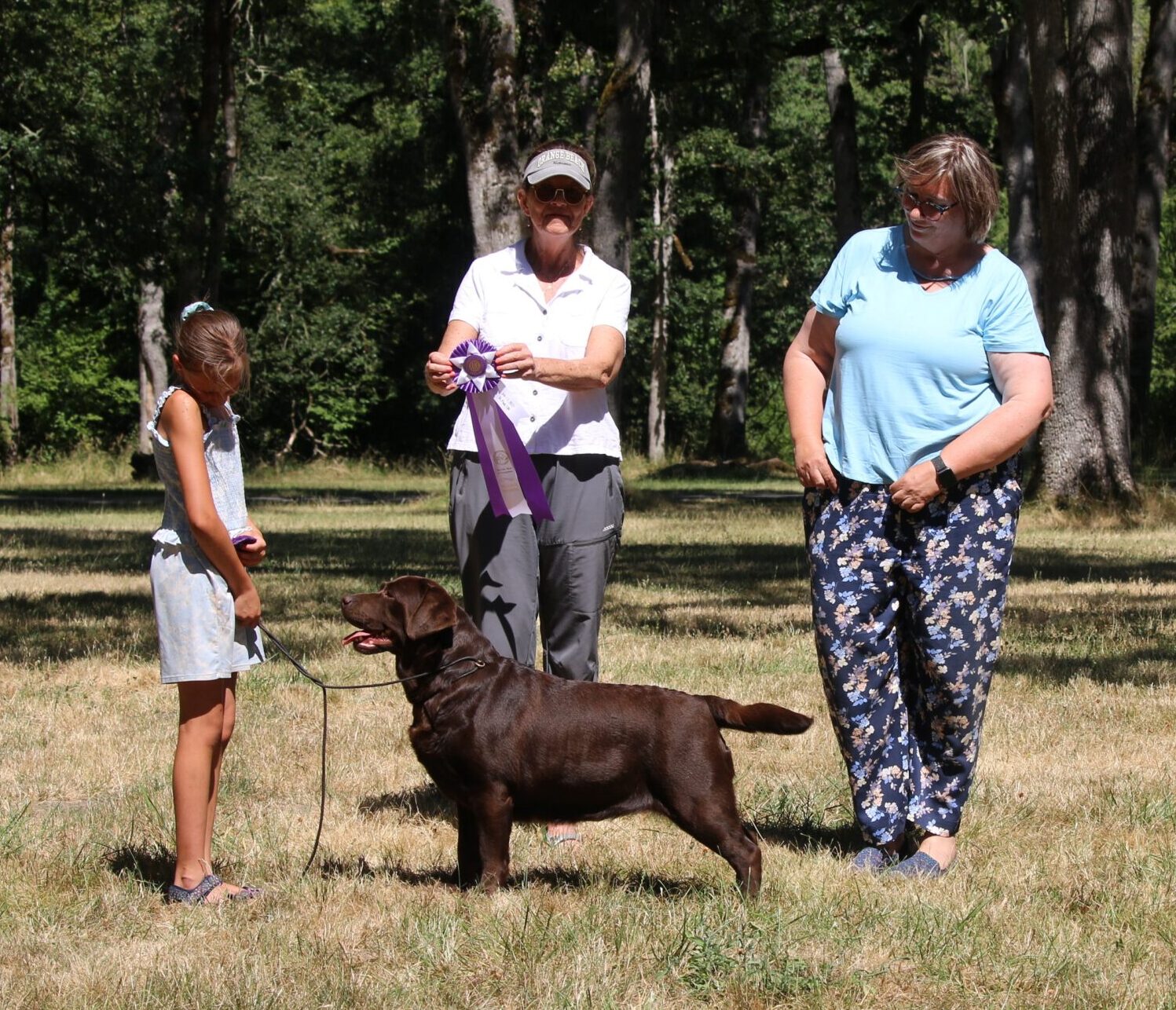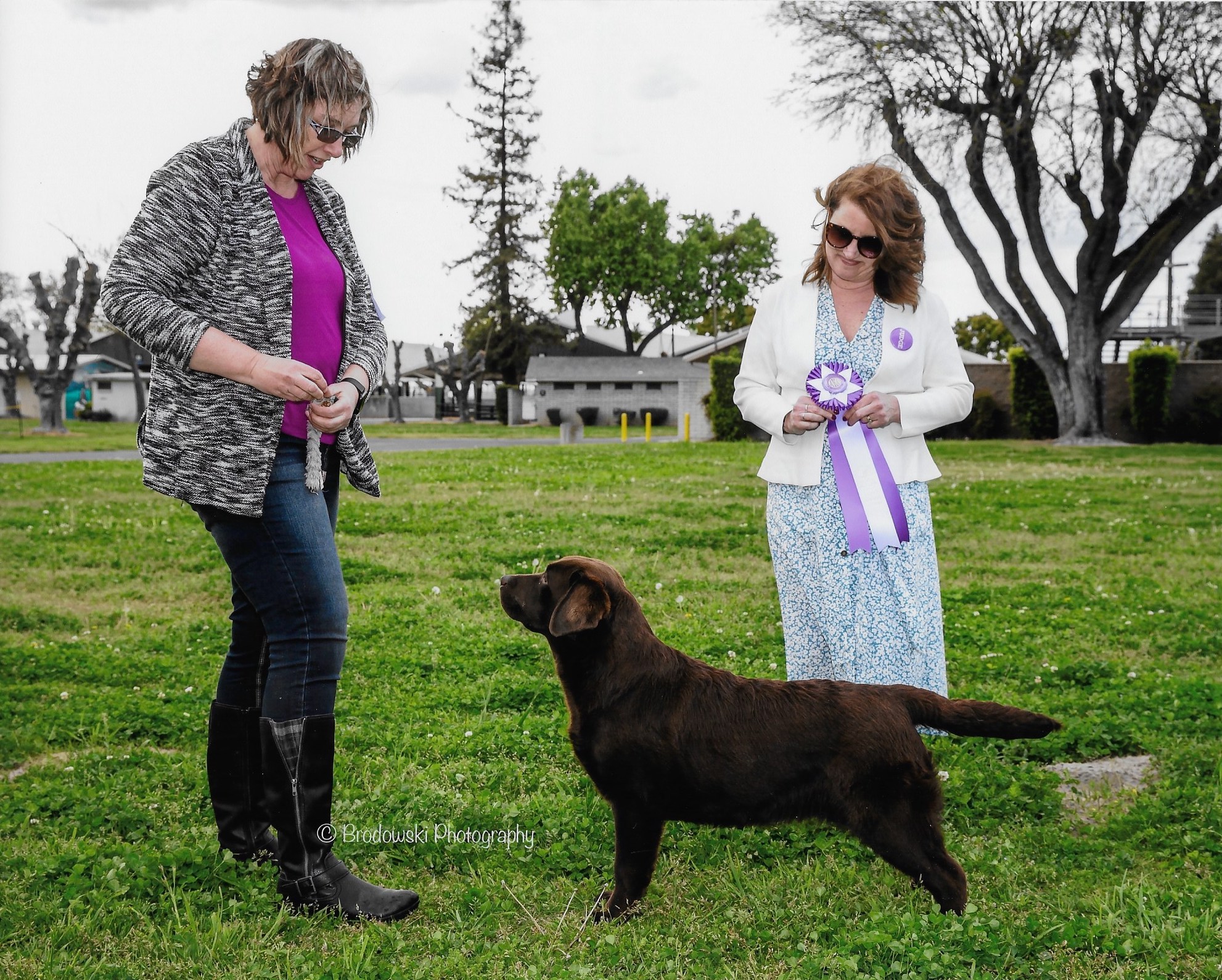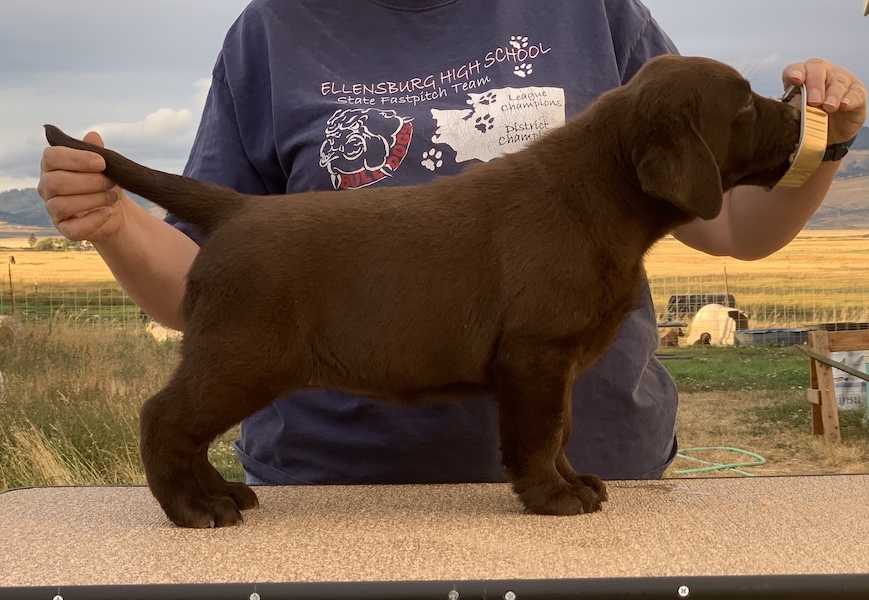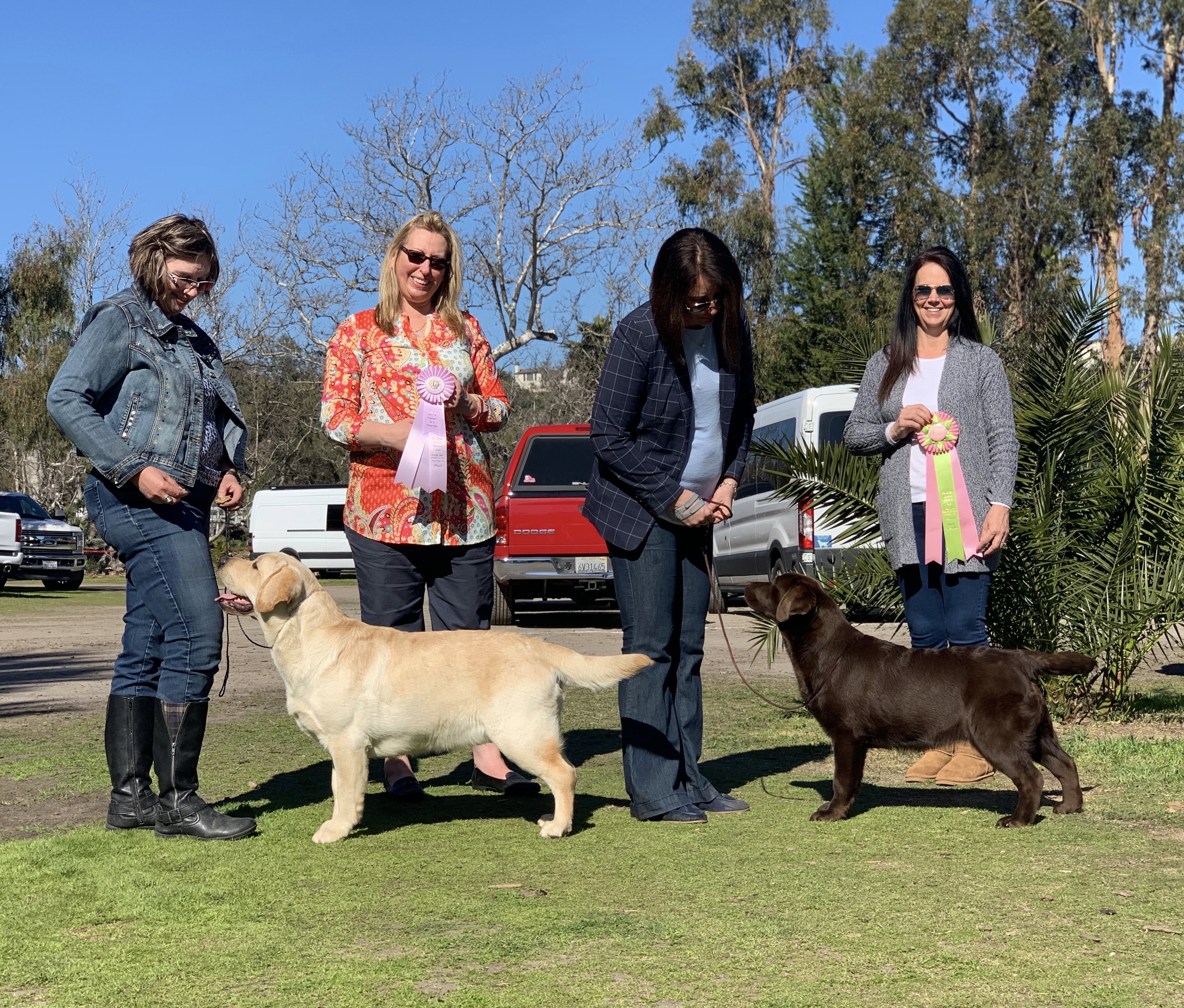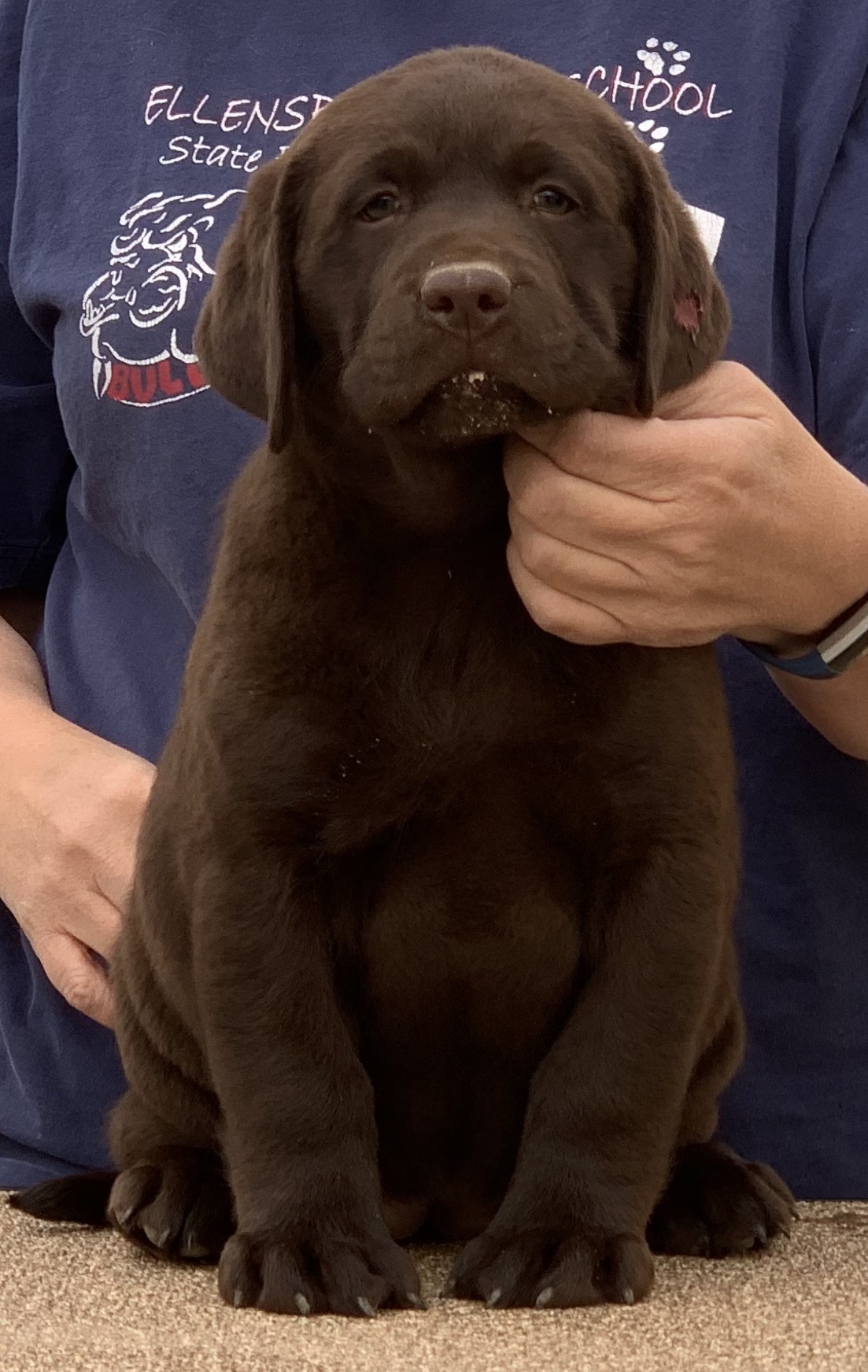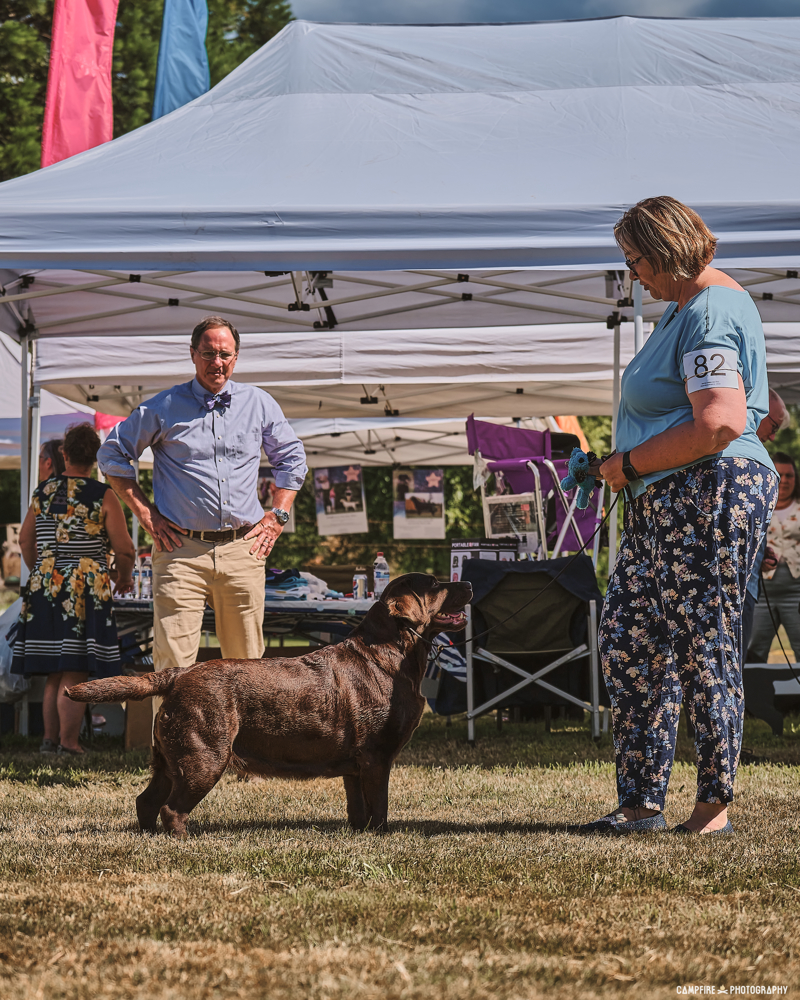 OFA Hips Excellent, OFA Elbows Clear, OFA Heart Echo'd Clear,
EIC Clear, HNPK Carrier, CNM Clear, RD Clear, PRA Clear, PRA Golden Retriever Clear, SD2 Clear, MCD Carrier, Stargardt Clear,
Dilute Clear, Long Coat Clear, Curly Coat Clear, chocolate carrying yellow.  
I wasn't sure with only four puppies to choose from that I was going to keep one of these, but as they got a little older, they just got nicer and nicer.  JuJu was a stand out, from a very nice litter, and I am just thrilled with her!  I can't wait to see her grow up!
Our JuJu Bean went to sunny San Diego for a quick trip to the sun and showed her heart out!  It was her first trip, first show, first flight… and she brought home a bunch of first place ribbons.  At San Joaquin JuJu pulled a hat-trick going Best in Sweeps all three days for a weekend I will never forget! Not only that but she was awarded Reserve Winners Bitch!  At some of the few shows held with Covid, JuJu was Best in Sweeps and Best Op in Sweeps –  even in her summer jacket at the Rose City and Puget Sound shows. 
 Best in Sweeps – Stacey Green, Greenstone Labradors – San Diego LRC
Best in Sweeps – Marlys Swanson, Artesian Labradors – San Joaquin LRC
Best in Sweeps – Lisa Allen, Dalwater Labradors – San Joaquin LRC
Reserve Winners Bitch – Kimberly Silva, Shadowbrook Labradors – San Joaquin LRC
Best in Sweeps – Marla Layer, Rancho Labradors – San Joaquin LRC
Best in Sweeps – Michael Horne, Horne's Labradors – Rose City LRC
Best of Opposite in Sweeps – Lisa Colombani, Tuscany Labradors – Puget Sound LRA
Reserve Winners Bitch – Julie Jussaume, Maritime Labradors – Golden Gate LRC
Winners Bitch – Anne Maynard, Kimleigh Labradors – Sierra Vista LRC
Reserve Winners Bitch – Shari Kirschner, Maritime Labradors – Mid West LRC
Best of Opposite Sex/Winners Bitch/Best of Winners/Best Bred By – Kirsi Luomanen, Tweedledum Labradors – Rose City LRC
Reserve Winners Bitch/Best Bred By – Lenore Hamilton, Blackwing Labradors – Golden Gate LRC
Reserve Winners Bitch/Best Bred By – Mike Hamilton, Blackwing Labradors – Golden Gate LRC Supported Entry
Reserve Winners Bitch – Sherry Anderson, Sher-Mi Labradors – Rose City LRC
Reserve Winners Bitch – Sally Bell, Borador Labradors – Rose City LRC
Best Junior Handler – shown by Elizabeth Harper
Reserve Winners Bitch – Cindy Skiba, Epoch Labradors – Puget Sound LRA
Reserve Winners Bitch/Best BBE – Jim Bowron, Fortune Labradors – Puget Sound LRA
Reserve Winners Bitch – Nancy Arbuckle, Hunt Club Labradors – LRC National Week Regional
Gallivant Larger Than Life
CH Gallivant Black Russian
Aster Liberti Labro Hamburg
Night Single Great Genus Winners
Aster Liberty Labra Holland
CH Gallivant BigPines Kenya
GCH Paradocs Bellwether Heath
BISS GCH Pig Pine Faith in Africa
Heyburn's Wait Till Your Father Gets Home
Heybern's Rhumba Jumps
CH Wilcare Leisure Suit Larry JH
CH Heybern's Cotillion RN
Heybern's New Balance
CH Hedgelawn Pembroke Doc Higgins
CH Erinhill's Heybern Debutante CD
Skyfire Danrich Reckless Nomad
Ramblin Man of Buddy Hunter
AC Pekka of Lontras Labs
Mallorn's Impulse
BR Noruck Iara JH
Kiss Zen of Buddy Hunter
Zen Doris of Buddy Hunter
X-girl of Buddy Hunter
Skyfire Tynder Why Not
CH Somersun Skyfire Six Shooter for Livewire RN
BISS GCH Nipntuck Stocking Stuffer
Somersun Classie Chassie
CH Skyfire's Luv Me Tynder
CH Skyfire's Oughta Be Haulin' WC RN
Can CH Willoridges Bring It On